What's in Whitening Toothpastes
Regular, non-whitening toothpastes are designed to help remove some surface stains as they clean teeth and improve the health of your mouth. Whitening toothpastes help make your smile brighter by removing even more surface stains. These toothpastes typically contain more abrasive ingredients, such as silica, which scrub the surface of the teeth.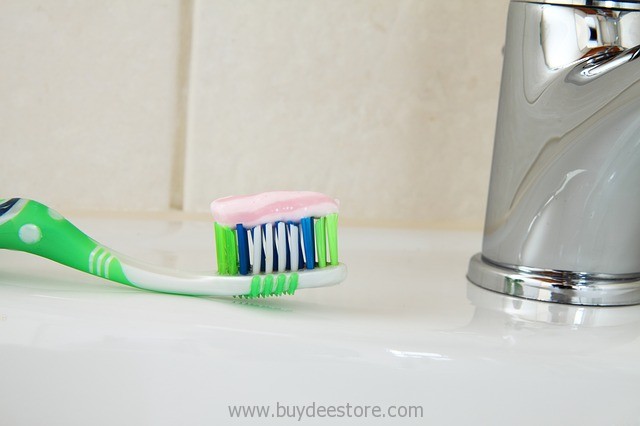 How Does Tooth Whitening Work?
Teeth whitening basically works by bleaching, or in the case of whitening toothpaste by removing stains from the surface of your teeth through abrasive means.
Bleaching procedures change your natural tooth color, usually anywhere from five to seven shades brighter. In-office (chairside) whitening and at-home (tray) whitening both rely on bleaching. Bleaches contain an active ingredient, most often carbamide peroxide or hydrogen peroxide in concentrations of 10-22%, which helps remove both deep and surface stains. There are significant cost differences between different bleaching procedures:

A light-activated whitening session in a dentist's office, sometimes called chairside bleaching, can cost $500 or more and results in instantly and often dramatically whiter teeth. However, after a year or so of eating and drinking normally (coffee, tea, soft drinks), your teeth become slightly discolored again and develop new stains. With chairside bleaching, you have to pay the $500 to have white teeth again.

Non-bleaching procedures work by physical and/or chemical action to help remove surface stains. All toothpastes rely on mild abrasion to remove surface stains between dental visits. Whitening toothpastes have special chemical or polishing agents that provide additional stain removal. A professional cleaning by a dentist or hygienist also uses abrasion and polishing to remove most external staining caused by food and tobacco.
Most teeth whitening products contain either carbamide peroxide or hydrogen peroxide as a bleaching agent with the former being the main component of professional bleaching products.
Bleaching lightens the color of your teeth but the degree of lightening is dependent on the type of product you use. Laser teeth whitening is perceived by many to be the most effective method as the laser light activates the bleaching agent thus speeding up the teeth whitening process. However it is the most costly way of whitening your teeth and is a process that will need to be repeated at regular intervals (every one – three years depending on how well you look after your newly whitened teeth).
Tray based teeth whitening products also work by bleaching your teeth but have an added advantage over laser whitening in that the custom mouthpiece can be re-used when you want to whiten your teeth again. The only consumable is the teeth whitening bleaching agent. Tray based tooth whitening products can be purchased through your dentist or over the counter tray based products are now available that use the preferred carbamide peroxide as the bleaching agent.
Bleaching works well for whitening yellow teeth but is not the answer in every situation so it is advisable to seek the advice of your dentist. Your dentist may recommend that you don't use teeth whitening products if your teeth are sensitive, you have worn enamel, cavities, gum disease or in other situation where tooth whitening may prove detrimental to your health or the health of your teeth.

Teeth Whitening Toothpaste Selection and How to Find the Best Teeth Whitening Product
Things That Cause Stained Teeth Article – It's good to realize that stained teeth are something most people have to deal with in their lives; it's not that you're unlucky. The most important factors contributing to discolored teeth are caffeinated drinks such as coffee and tea, the habit of smoking, wine, soda and some types of colored foods like dark berries. Instead of stopping your consumption of these products, or even simply deciding to hide your teeth from the outside world by turning your head away when you smile, there is another way. You should start brushing your teeth using a whitening toothpaste to preserve your teeth's color.
Which Whitening Toothpaste Is the Right One? – People often wonder which whitening toothpaste they should select in order to get the best results. The truth is, it doesn't really matter which whitening toothpaste you're using, most of them work perfectly fine. Choosing a whitening toothpaste has more to do with your personal tastes and preferences. To be complete, here are three well-known whitening toothpastes:

Colgate Total
Darlie
Dentiste
SensodyneAll of these toothpastes are known to perform very well as a teeth whitening product. However, as an example, Arm & Hammer toothpaste tastes somewhat salty as a result of some active ingredients. Now this could be a reason for you not to buy this certain brand of toothpaste. It is these kinds of subtle differences which you should base your decision on; again, it's mostly a matter of taste.

Health and Whitening – Whatever you decide to do, always make sure you choose a toothpaste that is regarded as a healthy toothpaste by the American Dental Association (ADA). There should be an ADA seal on the packing, which signifies the ADA thinks it prevents cavities, gingivitis, removes plaque and strengthens the tooth enamel.  The tooth enamel is the strong white outer layer of the tooth. When this layer is damaged, it is made possible for stains to arise. Weak or eroded tooth enamel is also a sign of bad overall oral hygiene. Most toothpastes contain sodium fluoride, which is a chemical that helps in rebuilding tooth enamel. When it comes to finding a whitening toothpaste, be sure to make health your first priority. If you just go for beautiful teeth, and ignore oral hygiene, problems are bound to show up. Most of the time, these problems are a lot worse than the embarrassment of the stained teeth you had to deal with before, so keep that in mind.
Toothpaste Whitening Products
Professional Laser Whitening – Of course, this is the more expensive way to get whiter teeth. Professional laser whitening can cost you over $500 and involves a dentist applying a bleaching agent to your teeth in conjunction with laser treatments. The laser treatments help speed up the process of teeth whitening, therefore making it one of the fastest ways to get whiter teeth. But unless you're willing to dish out your hard earned money just to speed up the process, you're better off with alternative methods.
At Home Teeth Whitening Kits – You can use a mouth guard system which typically uses the exact same bleaching agent as dentist grade whitening products. With this method you can expect to get a smile comparable to laser whitening, but only after one to two weeks of use. The drawback is that it can be a hassle to wear the mouth guard for at least thirty minutes everyday. Of course, the benefit is that you can save large amounts of money by taking this route.
Whitening Toothpastes – Overall, whitening toothpastes won't give you a noticeably whiter smile (which is what most people want). They'll whiten your teeth a little bit but it won't be anything to write home about. The main benefit is that it's extremely cheap to buy whitening toothpastes. Nevertheless, your best bet is to stick with the at home teeth whitening kits if you're really looking to have a smile people will compliment you on.
Reference :