A skin rash can signal many things, but it's often the result of an allergy. Mysterious rashes send millions to the doctor each year. According to the American Academy of Allergy, Asthma & Immunology, skin allergies prompt approximately 5.7 million doctor visits annually.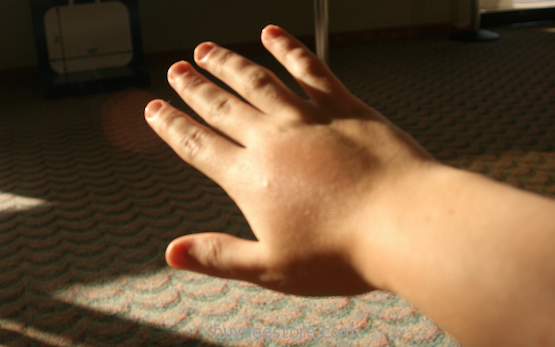 "Redness and itchiness, with or without hives, are signs of a skin allergy," says Clifford W. Bassett, MD, a clinical instructor in the division of infectious diseases and immunology at New York University School of Medicine. "Skin allergies are caused by allergic contact dermatitis."
"Allergic contact dermatitis" is the term used for a rash or irritation of the skin that occurs when allergens, substances that the immune system reacts to as foreign, touch your skin. It's estimated that atopic dermatitis affects up to 3 percent of adults.
Are you allergic to your cosmetics?
It has been estimated that one to two people in every 100 are allergic to cosmetics or toiletries. Everyone has different sensitivities; what you have reactions to may be very different to someone else's sensitivities. For this reason it is important to identify what causes your particular reaction. Allergies occur when the body's immune system wrongly identifies a substance – known as an allergen – as harmful.
Labels on cosmetics and body care products are often a tough code to crack and with the myriad of ingredients contained in these products, it is often hard to recognise what causes a reaction. Let's take a look at some of the most common ingredients that tend to cause adverse skin reactions…
Allergic symptoms in Perfumes and Fragrances: Unwanted Scents
Perfumes and fragrances are among the most common causes of contact allergies in adults, and this type of allergy is on the rise. But it's not just the stuff you use to smell good. Fragrances that may cause an allergic reaction are found in hundreds of products, including shampoos, soaps, body washes, and household products like room sprays, cleaners, laundry detergents, and dryer sheets. Even products labeled "unscented" can cause contact dermatitis because they may contain a fragrance designed to block unwanted scents. Research has shown that natural oils can also cause allergic reactions. If you're prone to fragrance allergies, look for fragrance-free products.
Allergic symptoms in Beauty Products and Cosmetics
Allergic reactions to cosmetics can be induced by fragrance allergies, but they may also be caused by preservatives used in cosmetics. Skin irritation is a common problem at the site of contact with cosmetics and may be experienced by anyone, but allergic reactions such as redness, swelling, and hives tend to occur in people who are allergic to specific ingredients, like formaldehyde, parabens, and thimerosal. A surprising allergen is wet nail polish — the most common cause of eyelid dermatitis. "Once the nail polish is dry, you can touch your face and eyes, but you should avoid contact until it is completely dry," says Day. If you experience a cosmetic allergy, stop using all cosmetics, and then gradually reintroduce products into your routine to isolate the culprit.
Allergic symptoms in Sunscreen Ingredients
The lotion you slather on to protect yourself from the sun could have an unwanted effect — but only if you go out in the sun while you're wearing it. That might sound bizarre, but some chemicals that are harmless by themselves are converted into allergens when they are exposed to the ultraviolet rays of the sun. This type of allergic reaction is called a photocontact allergy, or photoallergic reaction. While certain substances used in sunscreens can cause direct allergic reactions in some people, they cause the reaction in others only when they go out in the sun. Common sunscreen ingredients that can cause allergic reactions include PABA (para-aminobenzoic acid), benzophenones, oxybenzone, salicylates, and cyclohexanol.
Type of cosmetics that cause allergy
Cosmetics that easily causes allergy such as skin whitening product, blemish treatment cream, hair straightening liquid, or hair removal cream. This group of cosmetics may cause severe irritation. Most cosmetics in the group that does not cause severe side effect are hair perm liquid, hair dye liquid, hair treatment cream, facial cleansing product, acne cream, foundation cream, face wash foam, sunscreen, lipstick, or other products.
Cosmetics Allergy Symptoms
Burning pain or itchy on the face where cosmetics was applied. This is a symptom that occurs in short period. Allergic symptom due to irritation will disappear when stop using cosmetics.
Cause pimple on the face such as large pimple, which looks like a lump on the face and it is clearly noticeable.
Cause urticarial, small rash with some swelling. In severe case, the whole face may swell and there may be other symptoms such as chest pain, difficult breathing. For example, hair dyes allergy, etc.
Cause rash. If allergy is not severe, there will only be rash. If it is severe, there may be red lumps or blisters, and also itchiness.
Cause black rash as the product contains perfume, which is chemical. When it is contacted with sunlight, there may be sunlight allergy or there may be reaction that causes black mark in contact area.
How to treat cosmetics allergy?
When there is allergy, you should stop using cosmetics immediately. Or, there is allergic symptom but you do not know which cosmetics you are allergic to, you should stop using the product one by one. You should stop using the one that you think it causes allergy first, and then notice whether the symptom has improved.
Treat the allergy until it is gone. If there is pimple or red rash, you should clean your face with plain water and refrain from using cosmetics to rest your face. If the symptom has not improved or there is still inflammation, you should see doctor for treatment.
Avoid using cosmetics that causes allergy. If the allergy has gone, you should choose cosmetics that are suitable for sensitive skin for the time being.
Cosmetics allergy may have different severity. To protect beautiful skin from wrinkle due to allergy, you should check expiration date of the cosmetics that you are using. If it has expired or has been used for a long time, you must stop using it or throw it away for your skin health.
Tips to avoid skin reactions
Unfortunately there is no foolproof way of avoiding skin reactions. Allergies can occur at any time, so it may be the case that something you weren't allergic to one year, can suddenly become a problem and vice-versa.
The best way to avoid skin reactions is to know which ingredients cause particular problems for you. It is also worth investing in products that do not contain common known skin allergens. For example, fragrance free cosmetics and products containing natural preservatives are a good choice. It is also worth noting that just because something is labeled as natural or organic, does not necessarily make it less likely to trigger allergies. That's why it is so important to know your skin and what is 'normal' for you. Once you have identified this, you can ensure you pick the best skincare options for you.
Irritant reactions reflect a damaging effect of the cosmetic or toiletry on the skin – an example would be the effect of too much soap or shampoo on the skin leading to chapping, dryness and soreness. Delicate areas of the body where the skin is naturally thinner such as the skin folds, face, and particularly the eyelids are most vulnerable to irritant reactions. Other sorts of cosmetic which can cause irritation include liquid foundation, mascaras, face masks, toners and anti-ageing creams. Some people suffer from a particularly sensitive skin and experience itching, burning or stinging within minutes of using a product. This is usually a form of irritation rather than allergy and is commoner in people with skin complaints such as rosacea and dermatitis. It may help to use products that say they are for use on sensitive skin as the manufacturer will usually have undertaken further testing to reduce the risk of a reaction occurring. It may, however, be a matter of trial and error to find products that are tolerated.
Allergic reactions involve the body's immune system which is meant to fight against infections, but occasionally get the wrong target – in this case an ingredient of the cosmetic. In order to develop an allergy, you have to be exposed to the allergen more than once, and usually repeatedly. This means that you can become allergic to something which you have been using for a long time without problem. What triggers the allergy process is unclear, but once developed, allergies like this are usually life-long. Allergic contact dermatitis/eczema appears as itchy, sore, red bumpy skin, which becomes flaky and dry. If you avoid further contact with the allergen, it should improve within a week or so. It is worst where the product has been applied to the skin but can sometimes spread to other parts of the body. Treatment with a topical steroid cream will help to clear the rash more quickly.Allergic contact dermatitis is an example of a delayed-type allergy and the reaction may not appear until several hours or even days after using the product. This makes it difficult to work out what has caused the problem.
Patch testing can help to identify chemicals in cosmetics that your skin has become allergic to. It involves applying small amounts of allergen to the upper back and observing the skin's reaction over several days. This sort of test is usually performed in hospital by a dermatologist. When the allergen has been identified, it should be possible to avoid future contact with it in cosmetics and toiletries as the European Union has passed regulations that require a full list of ingredients to be included on the packaging or container. A simple method to find out if you could have a reaction to a cosmetic is to apply it to a 50 pence sized area of skin on your elbow crease every morning and night for up to a week. This type of test should not be done with things that you would usually wash off such as shampoos or shower gels, as these will simply irritate the skin. If redness and small bumps appear, it suggests you may be allergic to something the product. Patch tests are then important to pin point which substance or substances in the product are causing the reaction so that you can avoid them in other products as well.
The most common ingredients in cosmetics which cause allergic reactions are fragrances and preservatives. There are many different types of fragrance ingredient but you can tell if a product has a fragrance added as it will include 'parfum' in the ingredient labelling. Hair dye is another common cause of allergic contact dermatitis and this is almost always caused by phenylene diamine chemicals. Strong allergic reactions can develop causing a lot of swelling and redness of the ears, face and neck as well as the scalp. This sort of allergy often affects people who have coloured their hair for years without any problem. As phenylene diamines are present in all permanent and semi-permanent hair dyes, it may prevent you colouring your hair again in the future. Natural substances such as pure henna and indigo are safe. BUT beware that black henna (used for temporary tattoos around the Mediterranean) contains phenylene diamine and frequently causes allergic reactions in children.
The management of suspected contact dermatitis involves temporarily stopping use of all cosmetics on the affected area and treating the skin with a steroid cream. A soap substitute such as emulsifying ointment or aqueous cream can be used instead of soap for washing and also left on the skin as a moisturiser. In most cases, a mild steroid is all that will be needed, and these can be bought from a pharmacist without prescription, but more severe reactions require medical attention and may need treatment with a short course of steroid tablets.
Minimizing Your Risk
Always read package directions and warning labels.
Before using a new cosmetic product, try a patch test on a small area of skin. Wait 24 hours. If there is no reaction, it should be safe to use. In the case of hair dyes, it is important to do the test each time you use it, even if you haven't had problems before.
Never share cosmetics. This could expose you to someone else's bacteria. Also, if your cosmetics dry out, do not dilute them with water or saliva since this can contaminate them.
A product labelled 'hypoallergenic' can still cause allergic reactions. 'Hypo' means less; therefore, the product does not prevent allergic reactions, it is only less likely to cause them.
Always wash your hands before putting on make-up.
Keep your cosmetics away from high temperatures and sunlight. Heat and light can break down the preservatives that keep your cosmetics bacteria-free.
Never use spray-can cosmetics such as hair spray near a flame or source of heat. The heat can react with the contents causing a fire or explosion.
Most cosmetics do not have expiry dates. However, it is recommended to change products such as mascara every 3 months to prevent increased risk of eye infection. In general, if you notice a change in the odour, colour or texture of a cosmetic, stop using it.
Keep cosmetic products and toiletries out of the reach of children. If a child swallows any of these products, contact the Poison Information Centre nearest you, listed on the first page of your telephone book.
If you have an adverse reaction to a cosmetic, stop using the product immediately. Call your doctor if the reaction is severe.
Images by :