Enjoy an unforgetable trip to Damnoen Saduak, world's most famous floating market. This is an ideal place to witness the traditional Thai way of life. It takes us only one an half hour to get there. Our journey begins with sight-seeing on a long-tailed speed boat or a wooden paddle boat. Then it's time for exploring the floating market. Within this busy market, there are varieties of products, including local snacks, desserts, foods, handicrafts, and souvenirs. Nearby this location, we visit a coconut sugar farm before departing to the Maeklong district. We will experience the renowned Railway Market, the Bangkae Noi Temple, and the highlight — an official unseen in Thailand site, where a whole building is covered by the banyan tree — at the Bangkung Temple.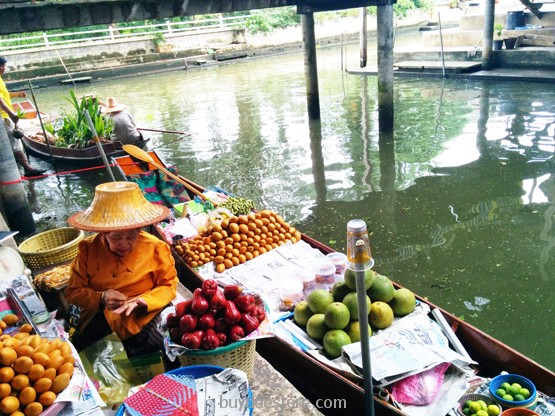 The most famous of the floating markets is Damnoen Saduak, about 100 kilometers southwest of Bangkok. This buzzing market is at its best in the early morning before the crowds arrive and the heat of the day builds up. Our tour also includes a visit to Phra Pathom Chedi in Nakorn Pathom, supposedly the largest pagoda in Southeast Asia.
According to history, Damnoen Saduak was the name given to the 32-km long canal dug during the reign of King Rama IV in 1866. Serving primarily as transportation, this canal had finally connected Ta Chin River in Samutsakorn Province and Mae Khlong River in Samutsongkram Province. Interestingly, the fertile land on both sides of the canal attracts habitation as well as agriculturists to produce farm fruits, vegetables and coconut trees.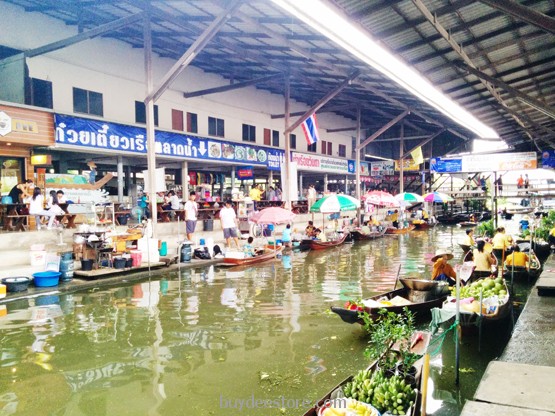 Even though Damnoen Saduak Floating Market is getting more touristy recently, it is still a venue that worth to visit. The fascinating images of vendors rowing the flat boats trading almost everything under the sun is somehow extraordinary. Unique and amazing! From selling the farm produce, vegetables, fresh fruits, meat, snacks, desserts to floating kitchen, grill and woks, these vendors are very skillful to manage their business on the small paddled boats.
Thai Name : ตลาดน้ำดำเนินสะดวก ราชบุรี
Duration : half day
Destination : Ratchaburi
Activities : Local Lifestyle
Departure Date : Everyday
Ref : tourismthailand