You've probably heard of clean eating, but you may not know what it is exactly or how to go about cleaning up your diet. Eating clean is a good way to refresh your eating habits: it's about eating more of the best and healthiest options in each of the food groups—and eating less of the not-so-healthy ones. That means embracing foods like vegetables, fruits and whole grains, plus healthy proteins and fats. It also means cutting back on refined grains, added sugars, salt and unhealthy fats.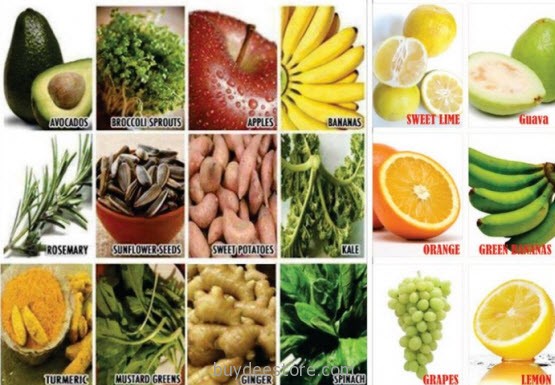 What is Clean Eating?
In the most basic sense, eating clean means eating foods as close to their original, natural state as possible. This means foods that do not have any artificial colors, flavors or preservatives. It also means avoiding foods that are overly processes or refined, are made with refined sugar and bleached flour, avoiding anything fried and avoiding drinks that are loaded with sugar. Basically, you eat the foods that our bodies evolved to eat and process. Its pretty simple!
Clean eating isn't really a diet. Its more of a lifestyle. This isn't something you do for a few months and then go back to processed, artificial foods. After eating clean for a while, you may actually find that these types of foods turn your stomach! Also, clean eating isn't about depriving yourself. Its about making smarter food choices. There are tons of great clean eating recipes that taste fabulous at the same time. You can even make cookies!
One key way to know if a food is clean is to determine if people have messed with it. That means adding things to improve the taste, color, shelf life etc. You want foods to be as close to their natural state as possible. When foods are altered with chemicals, colors, etc they lose their nutritional value. Clean food is low in salt, fat, sugar and additives. If the label has something in the ingredients that looks or sounds like a science project, that food is not clean. The cleanest foods are organic fruits and vegetables, but those are not your only options.
There are many benefits to eating clean. Not only will it help fight off or prevent numerous diseases, your energy levels will also increase. You'll also be able to deal with stress better and won't be on an emotional roller coaster. It boosts your metabolism so it can help you lose weight and then keep it off.
If you're trying to lose weight, the clean diet is a great way to do that. Since you're feeding your body what it is designed to use, it will react by losing weight if you need to. Part of eating clean also means not counting calories or feeling hungry. You eat small clean meals frequently to keep your metabolism revved up and combine a lean protein, complex carb and healthy fat into every meal. Also, your body will work more efficiently since it won't have to deal with all of the chemicals in processed foods.
I've been eating clean for 2 months now and have already noticed a dramatic change. For one, I have a TON of energy! I can work all day, race home, do a serious kickboxing workout and still be going long after. It used to be an effort just to make it to the gym after work! I also sleep better and my skin looks better. I also feel like my head is more clear and focused. I've also discovered some amazing new foods and recipes that have quickly become favorites. And I never feel hungry or sluggish during the day!
Clean eating is a shift but is actually pretty easy to make. The results are quick and you'll start feeling better almost immediately. You'll also realize how many chemicals we put in our bodies just with the food we put in our mouths. Its pretty scary when you make that realization!
Proper Exercise and Clean Food
Many people believe that just by going on a diet it will fix up the problem but if your body is burning less fuel than it should be you will virtually be dieting for the rest of your life. As you get older the situation will become worse as you will be losing more and more muscle which means you will end up with your fat burning machinery in a very poor state of health.
A better idea is to rebuild lost muscle and tone up what is still already there. There is only one way to do this and that is with a strength training program. You need to directly work your muscles through their ranges of movement under a load. Recreational activities that involve low intensity repetitive movement will not do the job. They may burn some calories at the time but do little to nothing to tone up your muscles which are the engine room of your metabolism and your fat burning capacity.
To support your proper exercise program you need energy so you can put the necessary effort into it to make the changes you need to make to your body. Your eating plan needs to center around natural whole foods that are not processed.
This means they mostly do not come in a pretty box, packet, or tin or from the frozen section of the supermarket. They do not even have a food label as they have not been mucked around with by man. Things like quality beef, chicken and fish, vegetables and fruits cooked from scratch.
These are the foods that will boost your metabolism and turn off the hunger signals that can make you overeat and cause ongoing weight gain. Processed foods will make your job at weight loss almost impossible as the chemicals and fake sugars and fats confuse our delicate hormones that control our appetite control system.
When you work to get rid of as many as possible of these foods you will find the task of losing weight so much easier. This is something that is not going to happen overnight and it will take some time and effort to replace them. But it will be well worth the effort when you start to see your svelte slim body start to show itself again.
Best Clean Foods To Cure Your Acne
That's the basic information that you need to understand. The key to cure your acne lies on your foods. Here, you will find 8 best clean foods to cure your acne:
Avocado. Drink avocado juice a lot in order to rejuvenate your skin. The effect: You will get glowing and radiant skin, fading away your acne and acne scars.
Apple. An apple a day is good to make your acne disappear. The effect: You will eliminate toxins from your body, clean your metabolism, and finally stop your acne formation.
Cucumber. Cucumber is a fresh vegetable that will help you to remove your black spots. The effect: Eating some fresh cucumbers a day will give you a more glowing skin, without black spots.
Watermelon. Fresh and delicious fruit that will moisturize your skin. The effect: Turn your dry skin condition into fresher skin condition, eliminate excess oil on your face.
Almonds. Delicious and healthy snack for your body. The effect: This is the only nuts that will help you to clear acne, instead of aggravating your acne.
Spinach. Great addition for your meal, one of the best green leafy veggies out there. The effect: It will make your skin healthier as well as prevent acne formation.
Tomato. This fruit is full of healthy vitamin C, which helps you to deal with skin irritation. The effect: It will help you to lessen your skin irritation and inflammation.
Grapes. Eating some grapes will help you to ease your digestive system. The effect: When you eat some grapes after your regular meal, you'll be able to ease your digestive process, which will be helpful to eradicate toxins from your body.
How Steam Cleaning differs with Traditional System?
Steam Cleaning System
Steam cleaners produce quality and powerful steam at high temperatures and pressures. This steam reaches the organic materials deep down in the surface and dead organisms can be removed with its brush or a microfibre cloth attached to a steam mop.
In addition, steam cleaner uses only water converted into hot dry steam that prevents bacteria proliferation. It does not recycle dirty water unlike the traditional mop and bucket. It can degrease, clean and remove dirt, grease and oils, mold and mildew, bacteria and germs without the use of harmful chemicals.
Traditional Cleaning System
This cleaning system is base on water and detergents and sometimes using harsh chemicals. Using detergents require a lot of water for rinsing that increases water consumption. Although a surface has been rinsed several times with water, chemical residues can remain on the surface, which is not good especially in the food industry.
This method of cleaning can only offer superficial results and impossible to get rid of the dirt and bacteria that are deposited in the surface pores where bacteria proliferate continuously. Therefore, it is not so effective especially for kitchen cleaning where grease and dirt are tough and can be demanding.
A well-cleaned and maintained premises means having a safe product and service to offer. It is very important to optimize a cleaning system, which gives a degree of cleanliness that a food industry should have.
With the comparison of the two cleaning systems above, steam cleaning system clearly provides a better and efficient cleaning and disinfection system that gives exceptional result. Using steam cleaners is indeed the best choice and most cost-effective cleaning method.