Bicycling For Health
If you are tired from a long day of work or stressed from a long long meeting. Go jump on your bike. You will quickly realize that its not your body or muscles or tired, its your brain. When you start putting all that good oxygen into the body you will suddenly feel awake and alive. It will make you great. When you are out rolling through beautiful countryside, cruising along in a sprint or picking through single track its hard to remember all those other inconsequential problems you were worrying about.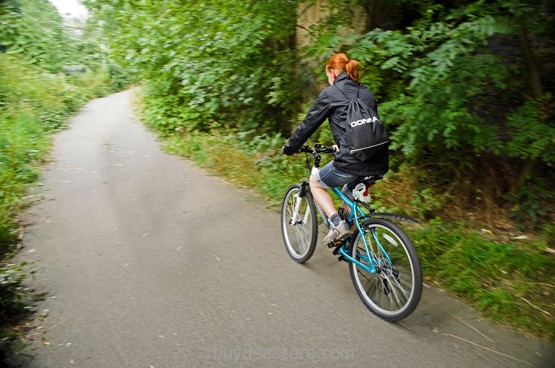 There is no better hobby to escape from the real world than riding your bike. You can be in a zone of mind where the only thoughts you are having are about the road and trail ahead and you will be letting life just happen to you. You will suddenly glance at your watch and realize that hours have passed and it will have felt like only a few minutes.
I have to warn you though. Once you get serious about biking it is easy to lose that fun factor about riding. It is easy to let regular rides and training feel like work not something you are doing for fun. Remember that when you are going out for a bike ride for fun you are truly blessed and you have to enjoy it to the fullest.
Bicycles for Girl for Health
Especially rural areas where there are no educational facilities, girls are deprived of education. The availability of bicycles in a wide range of attractive models and at affordable prices has made it possible for girls to continue their education for, they can commute to schools and colleges situated in nearby cities and towns. Bicycles surely make girls stronger, more independent.
Modern sedentary life style has made young girls to grow obese at a very young age. In such cases cycles provide best exercise to burn their calories and develop a healthy body. Many state government in developing countries, provide bicycles free to girls who continue their high school education.
Bicycles increase mobility for people who do not have access to motor transport. Companies like Hero Cycles, Avon Cycles, BSA Hercules, Atlas, Kaisar, EBike India and Petra have contributed the high degree of comfort for girls. Girls have found many advantages of bicycles such as they get their daily dose of health by riding it and they have improved their confidence. The reasons for the demand of bicycles by girls are many. They can be easily accessible and affordable for those who are not in a position to buy motor vehicles. It is interesting to note that the bicycles have solved the great problem of parking in traffic in cities as they can be parked easily anywhere and they do not pose problems of traffic jam for girls. Thus they reduce the risks of accidents which is very commonly seen in cities reducing the death rate. We can infer that bicycles are very much useful for girls as they are very convenient for them. Bicycles have not only solved the problem of rural school going girls but they have also joined the hands in making them economically independent.
In the modern competitive world bicycles for girls have become almost an integral part of their life. They play an important role in building up to self esteem of girls which of course is most needed in girls today thus bicycles re gaining much popularity among girls.
Bicycles Ultimate Exercise
Bicycles come in so many styles that you may be overwhelmed when you go out to buy one. You can buy a number of different specialty bikes based off of what it is that you want to do. If you live near a lot of hills and trails and want to ride off road as opposed to on pavement then you may want to look into a mountain bike. The mountain bikes have special tires and frames to deal with the rough terrain that you will ride on.
If you are looking to ride strictly on pavement hen a road bike is what you need. These are light and less rugged than the other types of bikes because they do not need to be. The roads a generally smooth and therefore the tires can be thinner and this will allow you to go faster.
The more you know about what you want to do the easier it will be to pick the right bike for your goals. Best wishes and happy riding.
Tips for Bicycling for Health
Bicycling for Health – Starting from the Beginning
Whatever your fitness level, cycling can be incorporated into your schedule to improve your overall fitness and quality of life. If you are not currently exercising, concentrate on simply making fitness a part of your life. There will be time to improve your fitness level, but don't forget to enjoy the scenery along the way!
In order to improve your cardiovascular fitness, consider cycling for a minimum of 30 minutes, three times per week. After several weeks you should begin to feel stronger, and more comfortable cycling. At this point, think about extending your cycling trips to 45-60 minutes, 4-5 times per week. If you increase the amount of exercise gradually, you will avoid injury and excessive discomfort.
Remember, if you regularly make time in your week for fitness, the health benefits of cycling will become readily apparent to you after only a short while.
Different Types of Riding for All Skill Levels
Cycling offers something for everyone. Remember, you don't have to pedal through countless, painful kilometers to enjoy the benefits of cycling. Simply cycling to work or school several times a week will improve your quality of life.
The next time you are travelling, think about enjoying the scenery on two wheels. Many cities offer cycling tours. These allow you to enjoy the sights at a slower pace – all while you are getting exercise. Who would have thought fitness was this easy?
If you are looking for more adventure, consider mountain biking. Think of mountain biking as hiking on two wheels. Not only can you find yourself winding along peaceful kilometers of single track, but if you are more daring, you can also finding yourself flying down rocky hills and ravines!
Here are some tips for bicycling for health:
Consult with your doctor beforehand – Always consult with your doctor before you start bike riding, and especially when you are about to change your biking habits (increase your rate of physical activity).
Warm up your body – It is always a good practice to stretch thoroughly before and after each bike ride. This is very helpful in preventing injury
Take care of your heart – Even if you are an experienced biker, it is a good practice to begin your ride with an easy speed over even ground. As your biking skills improve, you can choose more challenging terrain & biking speeds
Change your bicycle handlebars holding position – Change your holdings, and shake your hands downward frequently to get the blood flowing and to prevent pain or numbness in your arms and hands
Change your seating position – Long ridings are quite demanding on a small saddle. It can cause pain, and increase (in rare cases) the risk of impotence. Purchase a comfortable saddle that fits properly
Periodic rests – Get off your bicycle and walk around every 30 minutes or so to get the blood flow to important unmentionable parts of your body
Be gentle with your joints – Bicycling is relatively kind to your joints, but still demanding. Be gentle especially with your knees. Stop riding when there is pain. It may be that your seat is too low
Cool down – After biking stop for a moment, get off your bike, and stretch again. Be sure to drink waterThese bicycling for health tips will help you stay an healthy biker for years to come.