To be fit and healthy you need to be physically active. Regular physical activity can help protect you from serious diseases such as obesity, heart disease, cancer, mental illness, diabetes and arthritis. Riding your bicycle regularly is one of the best ways to reduce your risk of health problems associated with a sedentary lifestyle.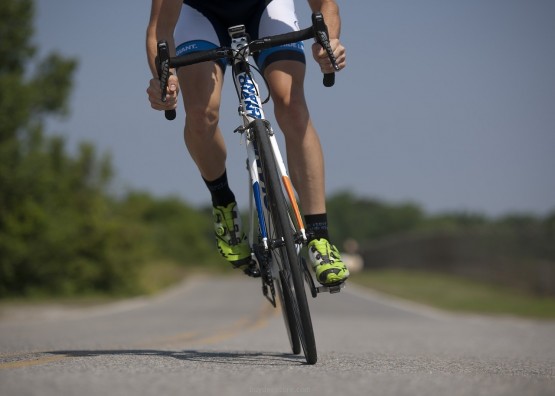 If you are tired from a long day of work or stressed from a long long meeting. Go jump on your bike. You will quickly realize that its not your body or muscles or tired, its your brain. When you start putting all that good oxygen into the body you will suddenly feel awake and alive. It will make you great. When you are out rolling through beautiful countryside, cruising along in a sprint or picking through single track its hard to remember all those other inconsequential problems you were worrying about.
Cycling is a healthy, low-impact exercise that can be enjoyed by people of all ages, from young children to older adults. It is also fun, cheap and good for the environment.
There is no better hobby to escape from the real world than riding your bike. You can be in a zone of mind where the only thoughts you are having are about the road and trail ahead and you will be letting life just happen to you. You will suddenly glance at your watch and realize that hours have passed and it will have felt like only a few minutes.
I have to warn you though. Once you get serious about biking it is easy to lose that fun factor about riding. It is easy to let regular rides and training feel like work not something you are doing for fun. Remember that when you are going out for a bike ride for fun you are truly blessed and you have to enjoy it to the fullest.
Tips for Bicycling for Health
Bicycling for Health – Starting from the Beginning

Whatever your fitness level, cycling can be incorporated into your schedule to improve your overall fitness and quality of life. If you are not currently exercising, concentrate on simply making fitness a part of your life. There will be time to improve your fitness level, but don't forget to enjoy the scenery along the way!
In order to improve your cardiovascular fitness, consider cycling for a minimum of 30 minutes, three times per week. After several weeks you should begin to feel stronger, and more comfortable cycling. At this point, think about extending your cycling trips to 45-60 minutes, 4-5 times per week. If you increase the amount of exercise gradually, you will avoid injury and excessive discomfort.
Remember, if you regularly make time in your week for fitness, the health benefits of cycling will become readily apparent to you after only a short while.
Different Types of Riding for All Skill Levels
Cycling offers something for everyone. Remember, you don't have to pedal through countless, painful kilometers to enjoy the benefits of cycling. Simply cycling to work or school several times a week will improve your quality of life.
The next time you are travelling, think about enjoying the scenery on two wheels. Many cities offer cycling tours. These allow you to enjoy the sights at a slower pace – all while you are getting exercise. Who would have thought fitness was this easy?
If you are looking for more adventure, consider mountain biking. Think of mountain biking as hiking on two wheels. Not only can you find yourself winding along peaceful kilometers of single track, but if you are more daring, you can also finding yourself flying down rocky hills and ravines!
Here are some tips for bicycling for health
Consult with your doctor beforehand – Always consult with your doctor before you start bike riding, and especially when you are about to change your biking habits (increase your rate of physical activity).
Warm up your body – It is always a good practice to stretch thoroughly before and after each bike ride. This is very helpful in preventing injury
Take care of your heart – Even if you are an experienced biker, it is a good practice to begin your ride with an easy speed over even ground. As your biking skills improve, you can choose more challenging terrain & biking speeds
Change your bicycle handlebars holding position – Change your holdings, and shake your hands downward frequently to get the blood flowing and to prevent pain or numbness in your arms and hands
Change your seating position – Long ridings are quite demanding on a small saddle. It can cause pain, and increase (in rare cases) the risk of impotence. Purchase a comfortable saddle that fits properly
Periodic rests – Get off your bicycle and walk around every 30 minutes or so to get the blood flow to important unmentionable parts of your body
Be gentle with your joints – Bicycling is relatively kind to your joints, but still demanding. Be gentle especially with your knees. Stop riding when there is pain. It may be that your seat is too low
Cool down – After biking stop for a moment, get off your bike, and stretch again. Be sure to drink waterThese bicycling for health tips will help you stay an healthy biker for years to come.
Outfitting a Bicycle For Commuting
The type of bike to buy for commuting
You have to be careful when selecting a bicycle for practical use. A lot of the common models have wide wires and rugged frames and are really designed more for a trail in the woods rather than for ridding on the road or sidewalk. So make sure you look for one with narrow tires and a longer wheelbase so that it will be easier to pedal on the street. Some bikes are called touring bikes and these may be the best for using as a vehicle for work.
Use a bicycle with public transportation
Suppose you live a little far from the office and you just don't have the time or the physical capability to pedal that far. You should consider riding the bus for part of the way. Most city bus lines now have racks on them where you can load your bike, and ride for a good part of the way. If the bus goes within a couple miles of your residence and a couple miles near your office, you can really make your commute a lot easier.
Accessories needed for your bicycle
A few accessories will probably help make your bicycle commuting go well. One is extra storage. How are you going to carry your stuff on the bike? There's a wide variety of options, but the two most common is a backpack that goes on the rider or baskets and bags that mount on the bike itself. Other items you may need include a rear view mirror so you can keep an eye on traffic, a headlight for when the time change makes you ride in the dark, and a turn signal to communicate with motorists, and a bike lock that will secure your bike while not in use.
Check your route options
Your bike is not a car, so the terrain is going to be very important for your ride. You will want to avoid heavy motor vehicle traffic, and hills as much as possible. This means you may take one route to work and another on your way back home.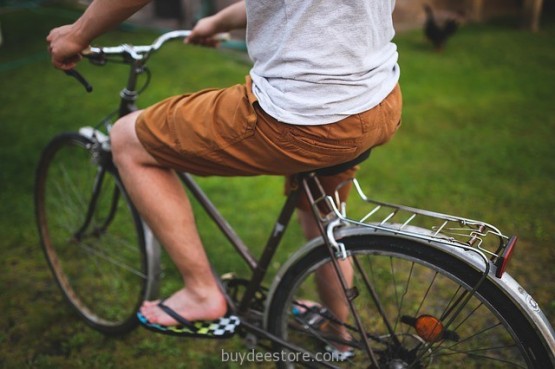 Benefits Of Riding Bicycles
Health Benefits
The health benefits of riding a bicycle are tremendous. A daily or weekly regular exercise regime is hard to maintain because the lifestyles that we may have. Most of us have at least one full time job and many have families to take care of and spend time with in addition to secular work. Because we all have these type of mundane tasks, this makes it harder and harder to keep up with a regular exercise schedule.
Now, if you were to travel via bicycle, this can double as exercise. Depending on how fast you go, you may be able to get a great cardio aerobic workout. If you cycle uphill and off-road, you may also be able to squeeze in some fitness training and strengthen your leg muscles.
Riding a bicycle in lieu of an automobile sometimes can afford you the time to get a work out. If you can set aside some time to cycle strictly for exercise, that can prove to be even more beneficial.
Financial Benefits
There are also financial benefits to riding bicycles. In this day and age, gas prices are on the rise and they continue to be priced higher and higher seemingly every single week. Some times the price of gas can be so financially taxing to people who are on a budget, that they have no other choice but to seek a cheaper alternative. Well, one great alternative is cycling.
Regular, manual bicycles require absolutely no gas at all. All that is required is a little bit of leg muscle and elbow grease. If you live near your workplace or school, why not travel the gas-free way and cycle to your destination?
Eco Benefits
Go green by cycling! Because bicycles require no gas, they are eco-friendly. They do not cause pollution to be blown into the air nor do they release harmful toxins that may potentially cause health problems.
So, there you have it. Riding bicycles have physical, financial, and eco benefits. These reasons for cycling are great, and the benefits can make you happier and healthier.